Fire in Fallbrook – October 2007
Our thanks go out to all the friends who expressed concern during the recent wildfires. While our lives were not particularly in danger, our buildings certainly were. At one point a radio broadcast reported that Live Oak Park had burned. Well, Pala International makes its home on So. Live Oak Park Road, and the park is less than a mile to the south. It turned out to be a mix-up: what had burned was much of Valley Oaks Mobile Ranch, a mobile home park still less than two miles to the east of Pala International. It was with a mixture of relief, regret, and apprehension that we took the news.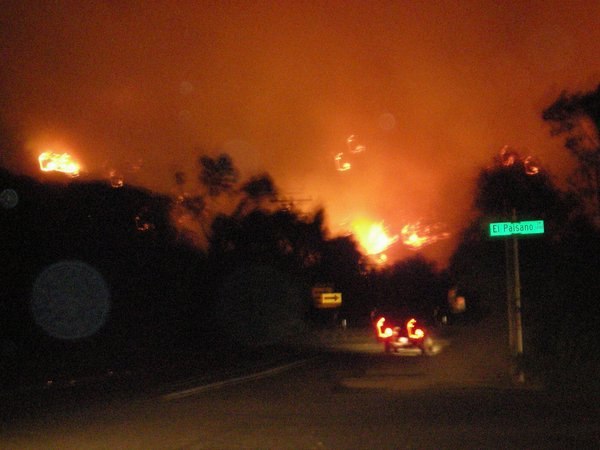 Local resident Stuart Reeder took this photo about 1:00 a.m. early Tuesday morning. You can just make out the street sign—El Paisano Drive—at East Mission Road, just two miles due north of Pala International. (Photo: Stuart Reeder)
See movie of firefighting planes, taken from Bill's patio just before Wimon's phone call. (Movie: John McLean)
The evening of Fallbrook's October 22 evacuation, Wimon Manorotkul, Pala's gemstone photographer, still hadn't received a reverse-911 call. Her daughter, Billie, a UCLA student who had been in contact with friends in Fallbrook, frantically urged Wimon to leave. Fortunately, she was able to hook up with fellow staffer John McLean, who she followed to safety further west.
Firefighters were up against a fickle wind that at times backtracked on property they had saved. The fire traveled up and down Mission Road and Live Oak Park Road, well known to even the most casual visitor of Pala International and The Collector Fine Jewelry. We are very lucky we were spared.
These photographs here were taken between Monday, October 22 and Monday, October 29. Our deep appreciation to the photographers and the local Village News for allowing us to reprint them here.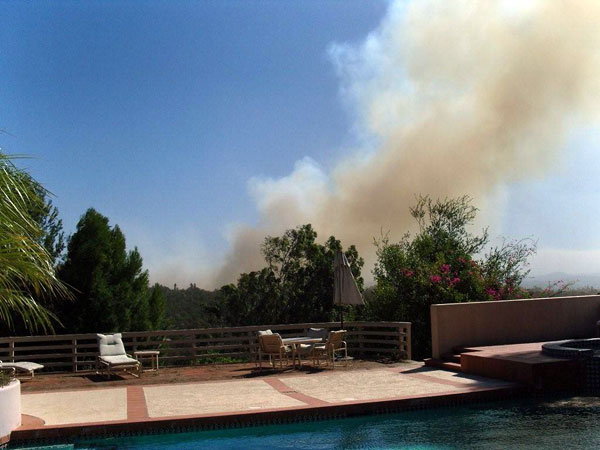 From the relative safety of Bill Larson's back yard patio, Pala colleague Nikolai Kouznetsov took these photos on Monday afternoon, just before Pala gemstone photographer Wimon Manorotkul reached fellow staffer John McLean (also at Bill's) asking for HELP! The sky would never be so blue. (Photos: Nikolai Kouznetsov)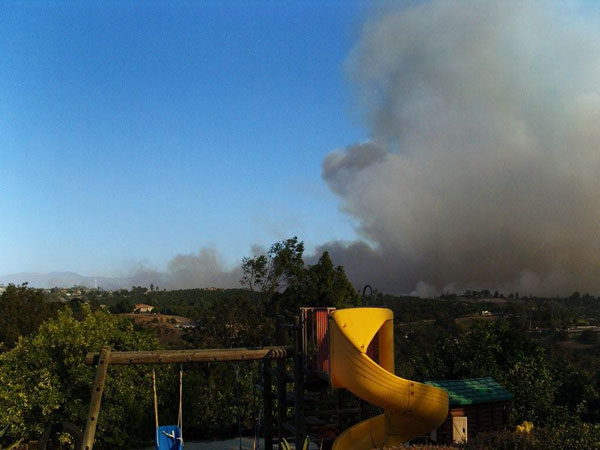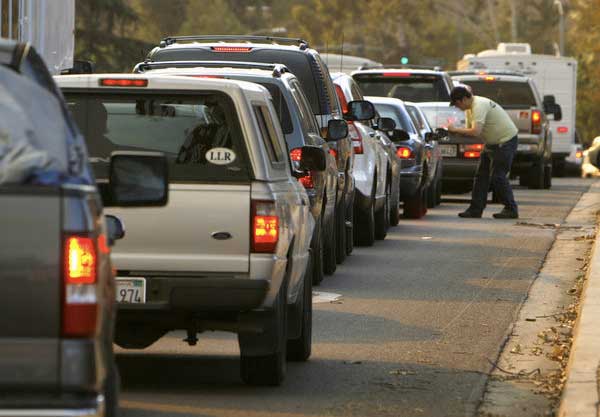 The Village News)
Fallbrook residents evacuate westward via Ammunition Road, through Camp Pendleton on Monday afternoon. (Photo: Paul Gallaher, courtesy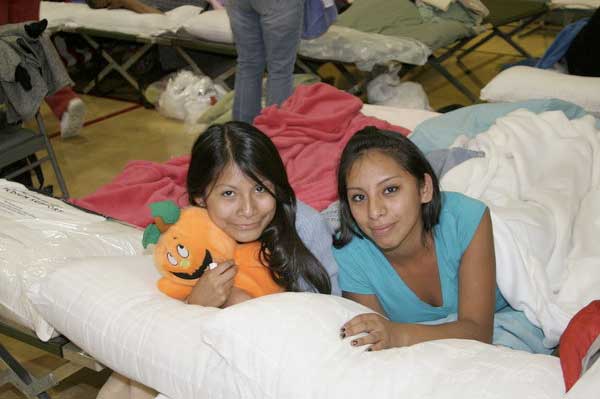 The Village News)
Georgia and Adilene Rojas at the Temecula Community Recreation Center evacuation center. (Photo: Kathy Zelasko, courtesy
)
Local photographer Brandon C. Saunders captured the cruel irony of a fire hose on fire, off Live Oak Park Road, and a gas valve persistently ablaze within the Valley Oaks Mobile Ranch. Both locations were extremely close to Pala International. (Photo: Brandon C. Sanders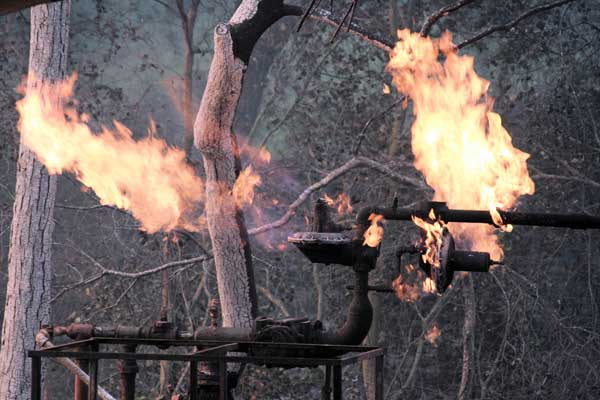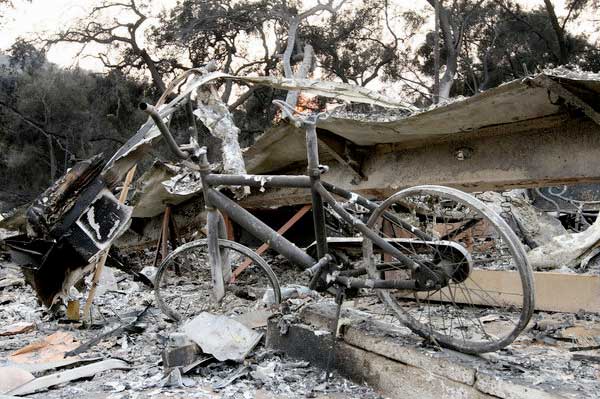 North County Times reporter, Tom Pfingsten, whose parents and grandparents' homes perished in the blaze said that, in the mobile home park, "50 or 60 homes were destroyed in the space of three average lots elsewhere in Fallbrook." (Photo: Andrew Foulk, courtesy The Village News)
Somehow this bicycle's kickstand continues to perform its duty at Valley Oaks. A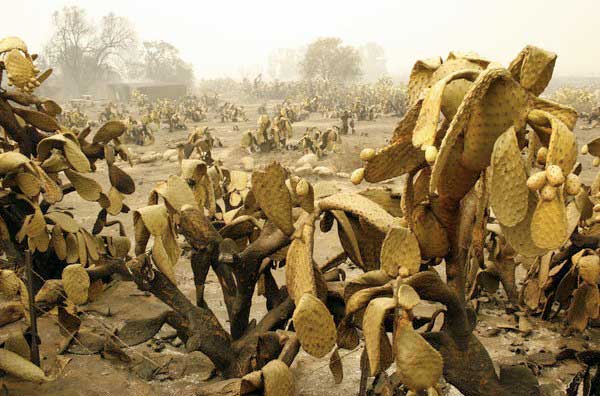 The Village News)
Mirroring the exhaustion of firefighters and homeowners, these cacti droop after the fire passed through Pauma Valley, across Interstate 15 from Fallbrook. (Photo: Paul Gallaher, courtesy
Pala's Jason Stephenson took these photos October 29 on his drive in to work. Top, a wasteland of charred remains. Below, the capriciousness of fire is evident in a chimney amid trees. Bottom, this path of the firestorm resembles that of a flash flood. (Photo: Jason Stephenson)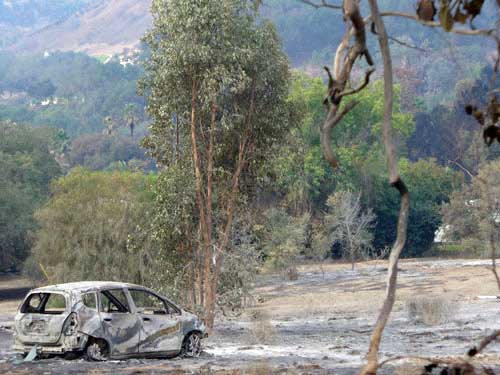 Pala staffer Gabrièl Mattice's husband, Chris Heidenreich, was a member of 25 "Damage Assessment Teams" that were deployed at the height of fire activity. Since the fires started, Chris and his partner, Mike Scott, were appointed to "The Witch Fire" of which the primary area covered was Rancho Santa Fe. "At times he was right up to the fire line and he said that it looked like what he imagined a war zone would look like," Gabe said. The teams out of San Diego entered the fire area immediately after its occurrence while other parts of the fire still burned instead of waiting for a fire to die down. This practice enabled data to accurately be posted in the quickest way possible. Mainly due to the manner in which they conduct their assessments, Gov. Schwarzenegger is ordering that the San Diego practices be applied statewide. Chris's photos follow.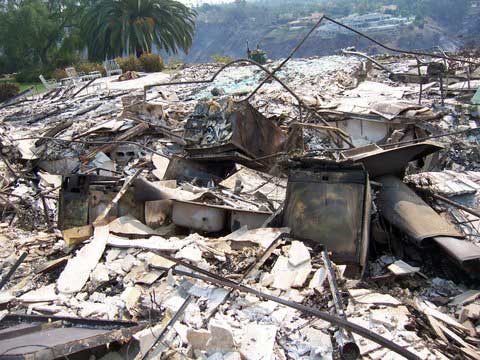 Above, the fire devastated one side of the canyon, but in the background can be seen the homes pictured below. Unscathed. (Photos: Chris Heidenreich)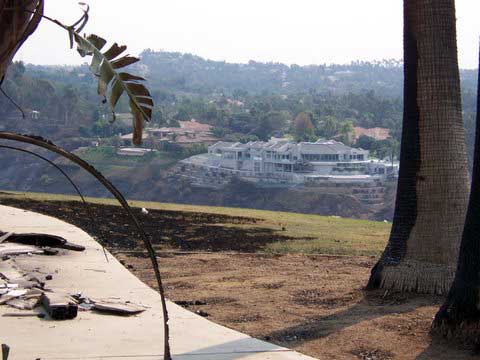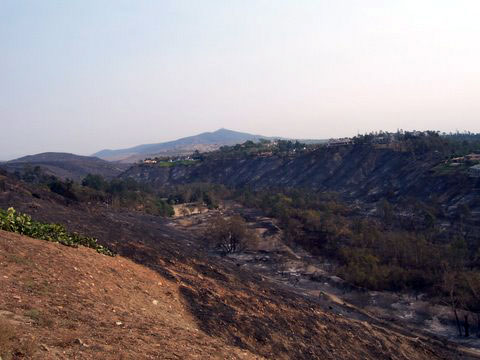 Fire raced through this canyon, which is at least a quarter of a mile wide. (Photo: Chris Heidenreich)
A firefighter grabbed this framed photograph from the wall of a burning home. It was the only thing able to be rescued. (Photo: Chris Heidenreich)