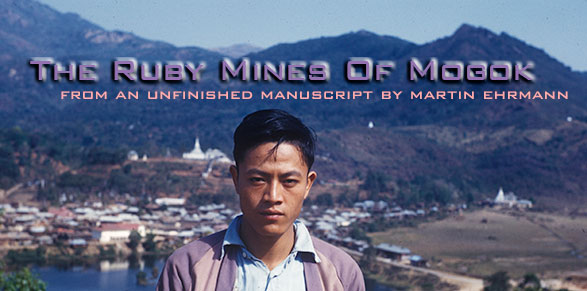 The Ruby Mines of Mogok – Chapter Five, Part One
This is Burma, and it will be quite

unlike any land you know about…

— Rudyard Kipling, Letters from the East
See also Chapter One, Chapter Two, Chapter Three, Chapter Four, Chapter Five Part Two, and Chapter Six.
---
Chapter Five, Part One: Mogok with Dr. Vic Meen
I had the opportunity of meeting a great many mineralogists and geologists during my travels in the United States and abroad. I liked meeting them and enjoyed their company as we had a lot in common. One special person was Dr. Vic Meen, curator of gems and minerals at the Royal Ontario Museum. We became friends very fast and saw each other often. Vic was in his fifties, six feet tall, with an intelligent face. He was warm and friendly and was always ready to help whenever he was asked. To me he was a beautiful person. On my frequent visits to Toronto, I also met his charming wife, Thelma, and his three beautiful daughters who adopted me as their Uncle Martin.
We often discussed the possibility of his joining me on one of my trips to Burma and so, as I was planning my next trip, I got him on the phone and asked, "Are you ready to go, or do you have other plans for the next few months?" "That's fine, a good idea. When are we leaving?" he asked enthusiastically. We decided on a date. He would fly via London and I via Zurich. I told him I would meet him at the Rangoon Airport, as my arrival there was a day earlier.
I planned this trip somewhat differently than those before. First, I cabled U Khin Maung to arrange with his mother for a cot for Dr. Meen. I also requested him to meet me at the airport in Rangoon. Next, knowing the food situation in upper Burma, I planned to supplement our food supply during my stop in Zurich. The Swiss airline advised me that I could take 350 pounds of food with me on the same plane at a very nominal cost. With the help of a friend of mine who was manager of a restaurant, I bought canned foods, a complete line of dehydrated soups, two very large circles of emmenthaler cheese each weighing seventy five pounds, and cans of chicken, turkey, ham, ravioli, spaghetti, and many others I don't remember. When it was all packed, it weighed close to the 350 pounds and was delivered the next day to the freight terminal marked clearly with my flight number and departure date.
The plane left on time and I was assured that all of the food was aboard. This trip was something special and I was excited by the air journey as if it were my first. The hostesses seemed prettier and more gracious, even the food tasted better, and the flight seemed shorter to me than ever before.
We landed in Rangoon on a beautiful day. At the customs area I found all 350 pounds of food piled on the table to be examined. Fortunately, I was able to have U Khin Maung paged and he came to the restricted area. I explained to him why I had brought the food and he took over. After much discussion and many arguments the customs official decided on a duty of thirty dollars. I paid this amount in U.S. dollars and my food was released. Several porters loaded it into the waiting jeep and we were off, first to U Khin Maung's home to unload the food and then to the Strand Hotel.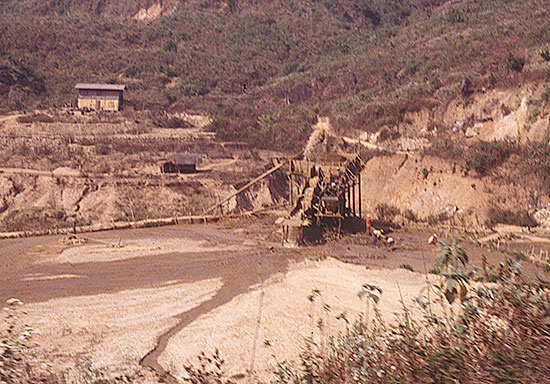 Martin Ehrmann's slides from mid-20th century contain several examples of sluices for washing of gem gravels. (Photo: Martin Ehrmann)
My visa was good for 45 days but special permission to travel to the north had to be obtained from the Ministry of Interior. Things were changing in Burma. A new regime was expected. It was, therefore, a little difficult to obtain the necessary travel documents. U Khin Maung managed somehow to have a permit for me and was promised papers for Vic Meen as well.
Vic did not expect the royal welcome he received when he arrived at the airport in Rangoon. Some of my friends and their wives insisted on coming to greet him there. He was pleased with the grand reception and soon felt at home and called everyone by their first names.
The reception committee had planned a party and the champagne was already on ice when we arrived at our suite in the Strand Hotel. The party was a success and lasted three hours. We were then invited to a Chinese restaurant for a dinner which also lasted three hours.
Since the weekly plane to Momeik was on Friday, we only had one day in Rangoon. Thursday morning U Khin Maung arrived in our suite at seven in the morning. He showed me the press [clipping] about the 1,090-carat rough sapphire. I told him the story about it and he seemed to believe me.
As our guide, U Khin Maung showed us more of the city of Rangoon in one day than I had seen in ten trips. Suddenly he said with a very broad grin, I want to show you both something very special. He drove us through Embassy Row, pointed out the various embassies, then followed Prome Road north. We stopped and got out. Behind a beautiful hedge stood a newly built house. A sign in front proclaimed it to be "Ehrmann Villa." He turned to Vic, "I built this house from the commissions and bonuses I made through Mr. Ehrmann in the past years." He insisted on giving us a tour of the house and separate servants quarters. The living room and hall were tiled. There was a beautiful garden area in the back, and many porches, which were also tiled. The three bedrooms all had polished teakwood floors. U Khin Maung planned to rent it for income.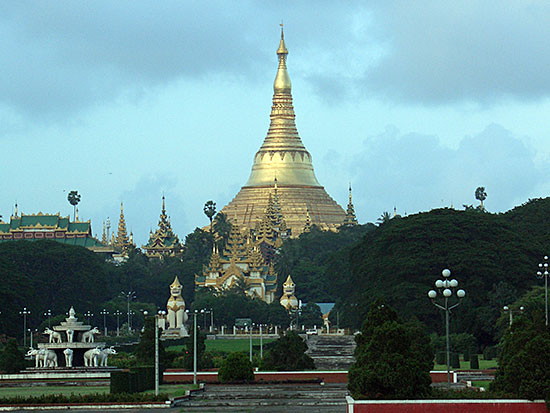 At the tender age of 2500,
cuts quite a figure, by day or night. Among other relics, it is said to house a ruby casket containing hairs from the head of Gautama Buddha, a gift given to two Mon merchants, who brought them to Burma. (Photos: Will Larson)
It was dark when we returned to the hotel. Vic expressed surprise by what he had seen that day. He tried to contrast Burma with India and other Asiatic countries he had visited. He had not expected to see the prosperity and the well-clothed and -fed people. He was also impressed with Rangoon and its beautiful parks and wide and well-laid-out streets in spite of the many bombed out buildings he had also seen. They were a leftover from the ravages of World War II, which had not yet been removed. What Vic had not seen were the slum sections, which U Khin Maung artfully avoided. Vic was especially impressed with Shwedagon Pagoda, supposedly the largest Buddhist temple in the world. It is located only five miles from the center of Rangoon on a high hill. The many cupolas, all covered with twenty-four-carat gold leaf, could be seen from a distance in almost any direction. The area of the Pagoda is beautifully landscaped for at least three square miles with gilded Buddhas wherever you looked. Occasionally Buddhist priests with clean-shaven heads and dressed in orange robes would pass across the lawns. They always carried a beggar's bowl in which people placed food for the one meal a day a priest was allowed to have.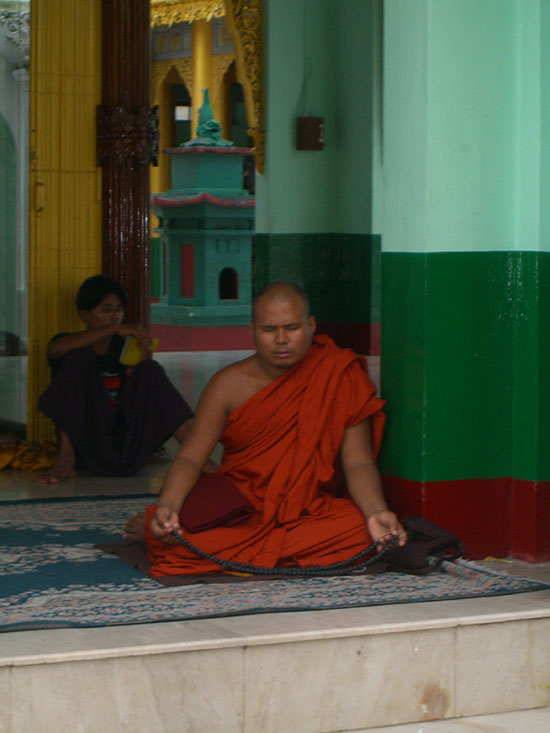 nine. (Photos: Will Larson, Bill Larson)
Inside the richly decorated pagoda, above, a monk keeps his place in recitation with the traditional 108-bead mala, while Pala International's Will Larson, below, wears a wrist mala with 27 beads, also divisible by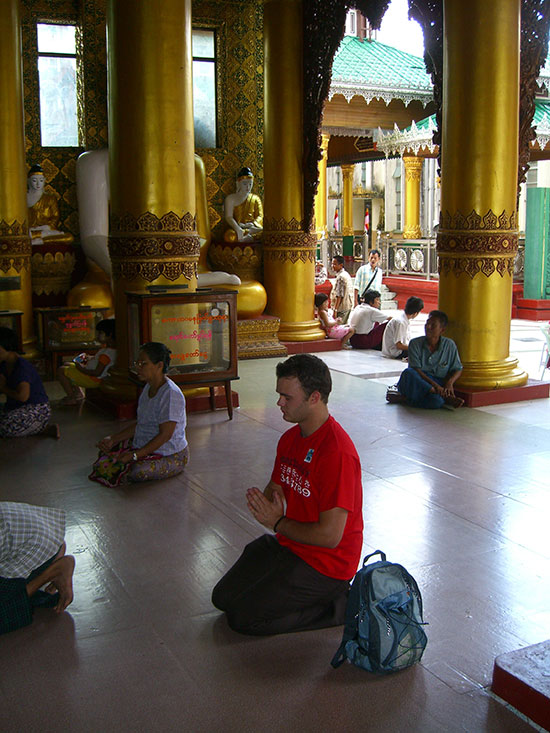 Friday morning U Khin Maung arrived at the hotel with an extra jeep. The food cartons were loaded in one jeep and the other held our luggage and some merchandise U Khin Maung had bought for his mother. When we arrived at the airport, our food was put aboard in the Dakota. These two-motor planes are ideal for the short flight. After the regular stop in Mandalay, our plane arrived in Momeik around noon. We were informed that on the trip to Mogok we would have a military escort because of unusually heavy insurgent activities on the jungle road. We were concerned that the military escort might attract the insurgents, but we arrived in Mogok without any incidents.
U Khin Maung's mother had prepared accommodations for Vic, which consisted of a second cot in the room set aside for me. Both cots were made up for us and there were plenty of blankets, sheets and pillowcases to keep us comfortable. Neither Vic nor I ever investigated the sleeping quarters of our hosts.
The family enjoyed meeting Vic and seemed to like him at once. Princess had grown a good deal. She told Vic how much she enjoyed the bicycle I had given her. He also met U Khin Maung's father who was seldom seen although he was usually about and was helpful around the house with various odd chores, as he did not work for a living. My dog, Prince, greeted us too. He jumped on me with joy.
I had described the throne in the outhouse to Vic and had warned him not to mention it in front of U Khin Maung. A while later Vic visited the outhouse himself. "Martin, what is the matter with you? I sat on the throne. My feet were on the ground and I was very comfortable," was his comment. Curious, I walked out to inspect the facility myself. U Khin Maung was standing in front of the outhouse smiling his welcome to me to the new outhouse.
The next morning, awakened by the chanting of the prayers, I looked out of the window and saw Vic bathing under the pump. He soaped, bathed, changed expertly as if he had been bathing in that manner all his life. U Khin Maung joined me at the window watching him closely. Vic did so well, no titters were heard from windows of the neighbors.
After breakfast Vic asked U Khin Maung to give him a brief history of the new Burma. U Khin Maung began. On March 15, 1945, the British Army returned to Burma, and the Japanese withdrew. The independence of Burma from British rule was declared on January 5, 1948. Two years later new mine homesteading laws were passed. Because of these laws, there were now about 1,200 mines owned by individuals. Some are two- or three-men operations, others employ as many as fifty. All employed miners are actually shareholders and share in the profits with the owners. This profit sharing arrangement tends to eliminate highgrading.
"What about the natural and political geography?" Dr. Meen asked. U Khin Maung explained that the Union of Burma is divided into six states, Burma, Shan, Kachin, Kbaya, Chin and Karen. It is bordered by Assam and India on the west, by Tibet and China on the north and by Siam on the east. The only entry into Burma by air or sea is Rangoon, its capital city. Rangoon has a population of 800,000 consisting of approximately 550,000 Burmese, 125,000 Chinese and 125,000 Indians. The total population of all Burma is about 20 million. U Khin Maung added proudly that Burma is the best fed country in all of Asia.
The time has now come for Vic to be initiated into the gem trading in Mogok. U Khin Maung had an arrangement with his mother to share commissions whenever she made the arrangements that resulted in a purchase. U Khin informed us that his mother had arranged for us to meet Daw Than, one of the important mine owners in Mogok. Most of the dealers in Mogok lived from hand to mouth, but not so Daw Than. Her wealth and her huge stock of gems were no secret in Mogok, although she rarely invited visitors to her home. She was to be Vic's first experience with gem dealing. My gem dealings with the women of Mogok were limited. It was difficult to break in, as they have their own outlets and without difficulty sold all they wanted.
Daw Than received us very graciously. She invited us in to the usual bare room with some bamboo mats placed on the floor of the room. Vic was initiated to the ritual of sweet coffee, tinned English biscuits and cigarettes, followed by a mild green tea, all served with plenty of conversation. Daw Than spoke English well and was impressed with Vic's job at the Royal Ontario Museum. Finally she went into another room and came back with a ruby weighing 30 carats.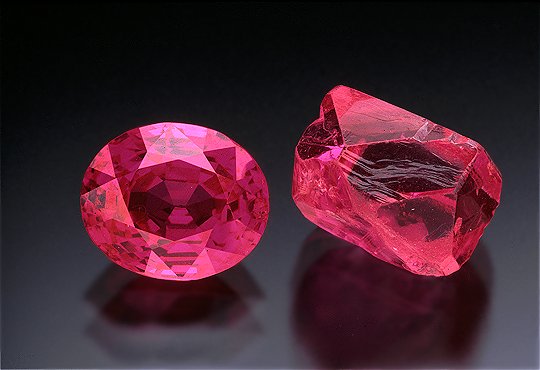 , 3.13 carats and 9 cm. wide. From the collection of Bill Larson. (Photo: Jeff Scovil)
To my surprise she handed the ruby to Vic, who examined it very carefully for a few minutes and handed it over to me. It was clean, oval cut, of fine shape, but the color left much to be desired. It had a tint of purple. For a moment I thought of turning it down. Vic was watching my reactions, took the ruby from me, placed it under a 50 watt bulb and all the purple disappeared under the artificial light. He remarked that it was a beautiful night stone, but not so good in daylight. I decided to buy it. I whispered to Vic what I was willing to pay for it and asked him to take over and do my dealing for me. U Khin Maung had briefed him on the Burmese dealing methods and Vic followed the rules. Daw Than asked the usual artificially high price and Vic, with much patience and more conversation, finally bought the stone at the price I had indicated. Vic was pleased at his first success.
We bought some more small sapphires of fine color in sizes from 3 to 6 carats and rubies of the same size. I was pleased with one lot of twelve one-carat rubies, perfectly matched. I was pleased and very lucky to get twelve matched stones like this. They were magnificent and a perfect layout for a fine bracelet. Vic shared my joy and enthusiasm. We returned to our quarters and each had a plate of canned ravioli for lunch.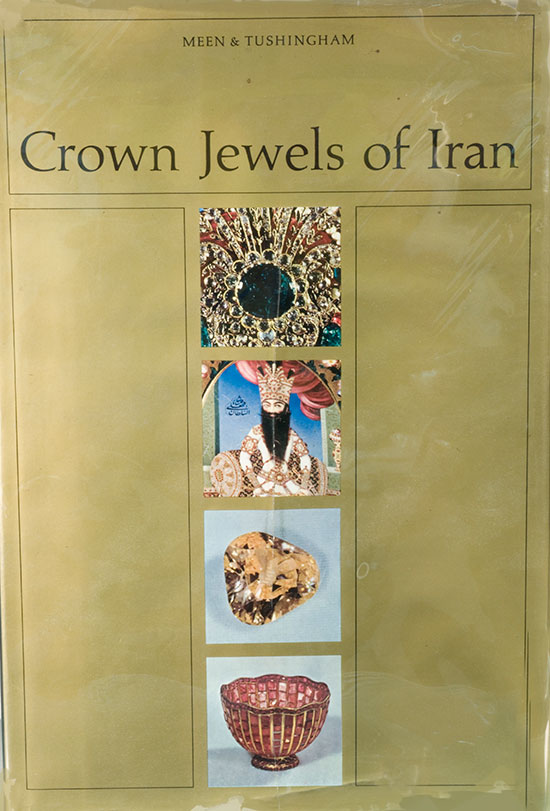 , along with co-author A. D. Tushingham produced this 159-page monograph, published by University of Toronto Press, in 1968, a year after following the coronation of Iran's last monarch, Mohammad Reza Shah Pahlavi. In the book's preface, Meen wrote, "In the spring of 1964, I received my first direct information about the Crown Jewels from my friend Martin Ehrmann." Ehrmann was, in fact, to have been integral to the study in Iran of the jewels, but was unable to take the time away from his business. From the book, below, "a royal ransom" in Burmese rubies—84 to be exact—are worked into the florets of this buckle, which actually is articulated by a hinge to the left of the approximately 17-carat cushion brilliant, pale yellow diamond. (Photos: Leighton Warren)
That afternoon was a Buddhist holiday. It was one of the most important days for boys between the ages of eight and twelve. Every male child had to serve as an apprentice priest and this was the day for the ceremony initiating their entry into service. We watched the extraordinary ceremony, which took place on a hillside with a wonderful view of the Mogok Lake. Mogok is a quaint village, which itself is not very attractive. It has narrow streets and its houses, built on stilts and with corrugated tin roofs, all look alike. But the village is hidden in a valley surrounded by colorful mountains. As you look in any direction, small pagodas erupt from the colorful mountains. The pagodas are set among exotic and beautiful shrubs, trees and flowers.
As we watched, most of the townspeople walked up this hill to say their prayers. In the procession about forty boys marched. They were all painted up and dressed in colorful costumes, carrying bells and burning incense which gave a sweet, sickening aroma. They walked slowly but not solemnly. They were laughing as they entered the temple. Apparently this was the end of the ceremony. The boys were taken from there to various assignments in different Buddhist temples. This apprentice service lasted one month. They lived exactly like the priests. Getting up before prayers, walking through the streets collecting food for themselves and the priests in woven bamboo baskets. They were allowed only one meal a day.
It was almost dark when we returned home. Two men were waiting for us in our room squatting in a corner on the floor. I knew one of them. He was a broker who had learned that my interest was in the unusual. The other man I learned was a miner from Bernardmyo who had a lot of peridots he had recently mined. For me, this was a wonderful surprise, as not many of these peridots came on the market. I had bought many cut stones and some rough some years back, but had not seen any for a long time. Vic was just as excited. He had never seen peridot crystals from Burma in a natural state. The miner emptied the bag of peridots onto the floor and Vic could not take his eyes off of them. "I shall never forget this marvelous sight," he said. That sight alone was enough to make his trip to Burma a success.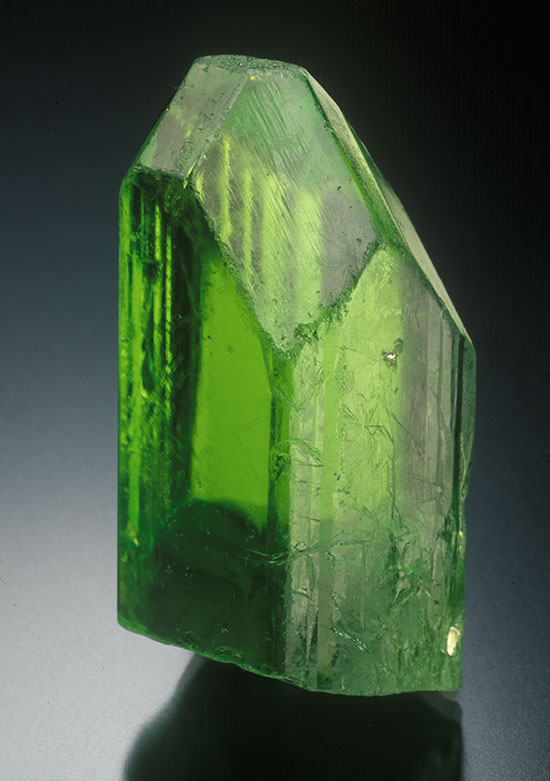 , 4.3 cm. tall, from an old mine at Pyaung Gaung, in Bernardmyo, the Mogok peridot locality of which Ehrmann writes above. From the collection of Bill Larson. (Photo: Jeff Scovil)
There were thirty-five to forty crystals. Some were large and some smaller. The smaller crystals were all clean, no inclusions and gemmy. The surfaces, however, were etched. They were about one inch by half an inch in size and all beautiful. I was anxious to buy the lot. Vic still looked bewildered and urged me to buy them. We both examined the non-crystallized rough and agreed that stones from ten to seventy-five carats could be cut from them. It did not require so much dickering for this lot, as peridots are, compared to rubies and sapphires, much lower in value. Before long we were the proud owners of this magnificent lot of peridots.
During the next hour Vic was busy making his selection for the Royal Ontario Museum. He naturally picked the best crystals and selected a piece of rough that we estimated would cut into a seventy to seventy-five-carat gem. We were correct as I was later to send a seventy carat gem to the museum.
There wasn't much social life in Mogok. I would drop in at A. C. D. Pain's place occasionally and often saw Julius Schiff, the agent for Jean Rosenthal. Pain looked upon buyers who came to Mogok as intruders in his domain. As a foreigner, he couldn't own a mine, but he was in partnership with U Ba Mhi and his father-in-law U Ba Din. They were the next on our list to visit.
The first thing the following morning we went to U Ba Mhi's house. For Mogok, it was an unusually large place. There was a lapidary shop on a large porch of the house. Four cutters were squatting on the porch busily cutting away. I introduced Vic to U Ba Mhi and his father-in-law. U Ba Mhi's face lit up and with a sudden happy expression acknowledged Vic's presence. I was puzzled by his odd behavior. On all my prior visits I classified him more or less as a taciturn person. Before sitting down, Mr. Pain arrived and together with U Khin Maung acted as our interpreter.
A tray was brought in on which were placed eight corundum crystals of very important size. The largest was an octahedron of a very beautiful golden color perfect in shape, not gemmy. The next two were also octahedrons of a dark shade of aquamarine. Both of these had large clean areas for cutting, but not of good sapphire colors. The other five were also nice crystals not cuttable and much smaller, but light bluish gray in color. We were impressed. I was glad Vic was around. For a change I could consult price with someone with knowledge. We quickly agreed on a price we could offer. Again I asked Vic to do the dickering. As I watched, Vic asked for the price of the lot, which of course was very artificial and even higher than Vic anticipated. He made his first offer. His voice was cool. He remained very charming and amiable during the whole procedure. My respect for him was raised a few notches. The expected "quare" (too far apart) echoed by U Ba Mhi and his father-in-law at the same moment. With the patience I couldn't have mustered, he asked for a delay of negotiations until the following day. All agreed.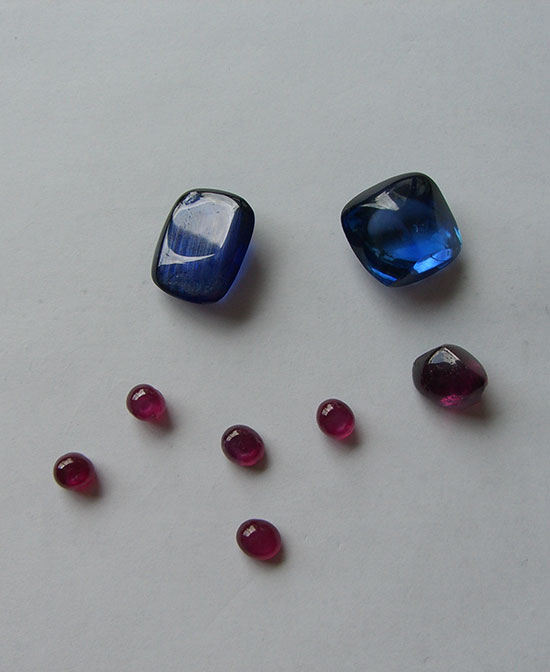 from a recent visit to Burma. (Photo: Will Larson)
It was getting dark. The time had arrived to return to our home. A pleasant surprise awaited us. A miner by the name of U Oh, who operated one of the few spinel mines in situ, brought a specimen to show us. It was a square piece of calcite eight by eight inches and two inches thick. Embedded in the center was an octahedron ruby-colored spinel, a portion of which, four inches long by two and a half inches in diameter, protruded from one side. Going through the calcite, the other end showed. This end was only one and a half by three quarters of an inch and it was a perfect specimen produced by nature, untouched by human hands, and esthetically it was the most beautiful specimen we had ever seen. Vic asked permission to pick it up. He studied it without saying a word for thirty minutes. "Martin, I want this specimen for our museum. Can I handle this deal?" The best minerals in the world have no particular home. They could come from the U.S., Canada, Africa, South America or from Burma. One thing is sure, you know it when you see it. I was put on a spot as I wanted this specimen for the Smithsonian, but there was no way I could refuse Vic. "Go ahead dicker for it," I said. I had already formed an opinion as to the value. Finally Vic asked U Oh how much. Two thousand dollars. Vic counter-offered one thousand. U Oh silently wrapped it in the white towel and walked out. We had lost it. I realized that our first offer should have been two hundred. Because of the high counter-offer, U Oh feared that he had missed seeing something.
I, too, would have been glad to buy it for a thousand, even more if necessary, but I was afraid it was all over. Dejected, we sat down to our dinner which U Khin's mother prepared for us.
After we were finished Vic asked if we could drive to U Oh's place in Kyatpyin. When we arrived there, we found U Oh chipping away at the spinel! Our too-high counter-offer had convinced him that the center of the specimen was clean and by cutting it he would make a fortune. The large end was almost gone. He looked at us sheepishly and smiling said "No gems, sorry."
The next morning we attended the bazaar in Kyatpyin. The bazaar alternated every five days between Mogok and Kyatpyin. The people bought their fruit, vegetables and groceries at the bazaar. Miners and gem dealers also contribute to this colorful event. Gem dealers can be recognized by the umbrellas they carry at all times, their badge of office, as it were. Miners, with their rough gems on tin plates, offer their wares to passersby. Just for the fun, Vic purchased a small lot of worthless rubies for which the miner asked one thousand dollars. After much bargaining Vic bought the entire lot for one dollar.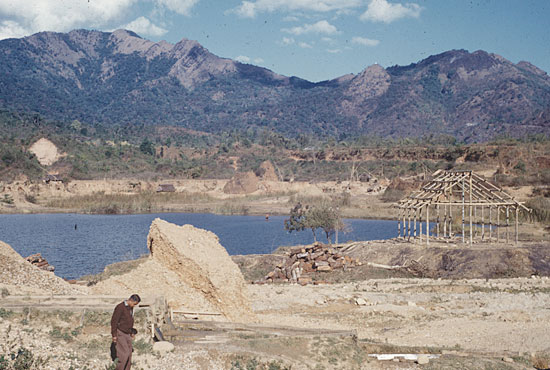 At the edge of a mining area, possibly at Kyatpyin, stands a hut in need of a thatcher. (Photo: Martin Ehrmann)
On the evening of our visit to the bazaar, Vic suddenly remembered that we would have to go to the Momeik airport to pick up two ladies from the Canadian Embassy, who would stay in the Government guest house. He suggested a dinner party in their honor on Saturday evening in our living quarters. I suggested that we also invite A. C. D. Pain and Julius Schiff, and Vic agreed.
U Khin Maung's mother was consulted. She said she would be delighted to do all the cooking with her sister and Princess as principal helpers. She also promised to have the nicest tablecloths and napkins and the best china she could borrow from her rich neighbors.
Friday morning U Khin Maung and Vic had to go to Momeik to pick up the ladies. Before leaving, Vic reminded me to close the deal with U Ba Mhi. I really had an easy time as he accepted our counter-offer. What pleased me more, I also purchased three important ruby specimens of the finest color and good crystallization but not clean for cutting. I asked U Ba Mhi to join us at our dinner party on the following evening and he accepted. Now we would have a party of eight.
Saturday was a busy day for all of us. Our room had its first thorough cleaning ever. We removed our cots and everything else with the exception of the altar. We then placed a table and eight chairs in the center. The centerpiece was a bowl of colorful flowers with a candlestick on each side. I was in charge of planning the menu, which was as follows:
Minestrone soup, canned.
Ravioli Bolognese, canned.
Chicken, ham and tongue, canned.
String beans and asparagus, canned.
Coffee
Papaya, cheese (emmenthaler)
Punctually at seven-thirty our guests arrived. Mr. Pain brought six bottles of his famous apple cider. The ladies were really surprised and delighted. They never expected a feast like this in the middle of the Burmese jungles.
The table looked perfect and U Khin Maung's mother, her sister and Princess did a superb job of serving, following my detailed instructions to the letter. I watched the ladies, they ate slowly and fastidiously until their plates were empty. The cider bottles were soon empty. By the time we each finished our emmenthaler, it was eleven-thirty. We all had a fine time but everyone was ready to retire. The ladies were driven home by A. C. D. Pain.
When Vic and I were alone, I showed him the sapphire and ruby crystals I had bought from U Ba Mhi. Vic was as pleased as I was. Our room was quickly changed back into our sleeping quarters and we went to bed.
We had nothing planned for Sunday. U Khin Maung asked us to go to Thabeikian which was sixty miles from Mogok. Someone had told him that a mine had just been discovered yielding a large amount of a green massive material. We certainly were interested and soon on the way.
Maung Myint had asked us to visit him at his home on Sunday evening. U Aung Gyaw, one of the important mine owners and dealers was the son-in-law of Daw Phon and brother-in-law of Maung Myint. Daw Phon had gone to Kathe to visit another married daughter and wasn't expected back until Monday morning. Without a doubt Maung Myint was a frustrated young man, as even at his age of twenty-eight he was not permitted to buy or sell any merchandise without the presence of his mother. This was a good opportunity to do a little trading on his own. But he still felt the need of his brother-in-law's presence.
Dr. Meen, U Khin Maung and I arrived promptly at seven. We consumed a large amount of imported Danish Beer before Maung Myint started showing us small tissue paper packages of gems which I had not seen before on my frequent visits to Daw Phon's house. One paper held faceted sapphires of about 5 carats each which were the finest cornflower blue I had seen in a long time. Another held two star rubies of eight carats each, real gems. There was one paper of mixed star sapphires of just commercial quality, and a large manila envelope containing crystals of rubies, sapphires and peridots. I wanted to buy the lot and both Vic and I began the dickering. Before accepting, Maung Myint looked to his brother-in-law U Aung Gyaw for approval. When the sign from him was favorable, the deal was closed.
Vic was especially pleased with this lot. U Khin Maung was to pay and pick up the material the following day. Without a doubt, U Khin Maung's greatest pleasure, always, was to pick up the gems I had bought. How he arranged the finances was his own little secret. I arranged all financial transactions between a Hong Kong and Rangoon money man, but the details were all U Khin Maung's responsibility.
We were waiting for his return from Daw Phon's house with the goods but he arrived empty-handed. He was a pitiful sight. All he could say was, sorry the deal is off. We better go to see her at once. When we arrived at Daw Phon's house, Maung Myint sat unhappily on the floor playing with some insignificant gems. I asked him why the deal was off, but he said we'd better wait until his mother arrived. Finally Daw Phon came in excitedly.
She informed me that Maung Myint had no business selling these goods to me, at any price. I reminded her that her mature son-in-law had been present during the entire transaction and had agreed wholeheartedly. I reminded her that in buying gemstones anywhere in the world an oral agreement was considered binding and I insisted upon my right to the material at the agreed price. She was very adamant. We all walked out of the house very angry. Maung Myint met us outside. He looked very unhappy. Once again I insisted that he stick to our bargain. I wanted this material. "If you don't stick to your bargain, you will be reincarnated as a cockroach," I threatened him. In accordance with his deep emotional involvement in Buddhism and his belief in reincarnation he began to pray. After a while, looking aghast, he ran away.
Vic was amazed and bewildered by the turn of events. All he could say to me was there must be a satisfactory solution to this problem.
The next evening, what appeared to be Maung Myint's entire family arrived at our place together, led by U Aung Chi. There were at least 10 people squatting on the floor of our living room. U Aung Chi's face, generally of good disposition and cheerful, had become very grave. This situation is very serious. My curse had to be withdrawn at once else Maung Myint might, in fact, return one day as a cockroach. I looked straight at Maung Myint and said, "I'll take my curse back the minute you and your mother agree to let me have the purchased material."
As it turned out, it wasn't that easy. Even U Khin Maung and his parents were against me. The pressure from all sides began to mount. I tried to think of a way out. Money, even principle, began to seem unimportant. And then, I was bluntly told that if I did not unconditionally recall the curse at once, I would never be able to purchase another stone in Burma. With that they all left.
Next morning Daw Phon asked us to come to her home. She pleaded with me to recall my curse upon her son. I had listened to troubled people before in all parts of the world, but none seemed so full of suffering as Daw Phon at that moment.
I said, "All right. I am retracting it right now. He is not to be reincarnated as a cockroach." Then I added, "I don't care whether or not you will let me have the material I purchased." Daw Phon's soulful plea had caused my desire for the purchased material to vanish. But then she relented and confessed that she had been wrong. She admitted her son had sold it to me and it was rightfully mine. She asked me to take the material with me and said that I would always be welcome.
We still had some food I brought from Zurich. I wanted to leave it with the family of U Khin Maung, but Vic suggested we take some with us. We had finished packing. A jeep was waiting for us to take us to the airport in Momeik. The flight to Myitkyina takes about an hour. It is the last stop on the weekly Friday flight, from Rangoon via Mandalay to Momeik and Myitkyina.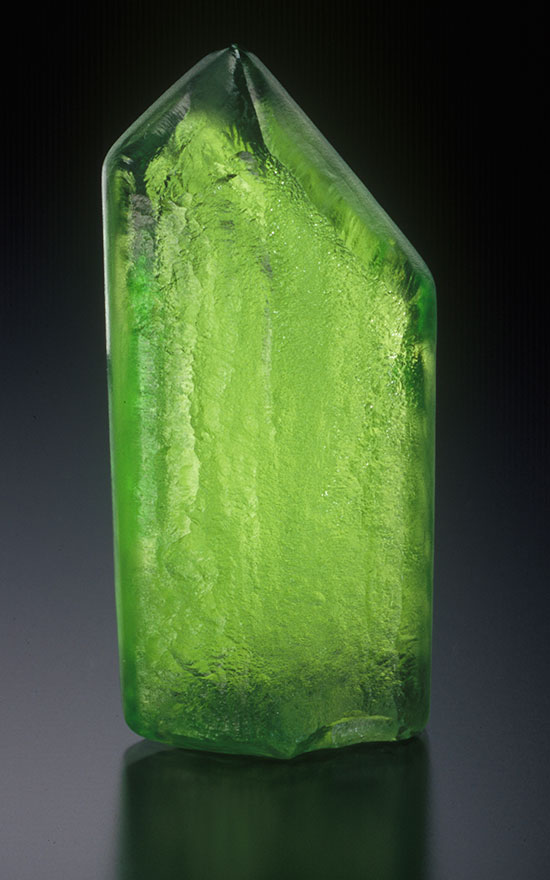 , 4.8 cm. tall, from a new mine at Zalat Thaung, Bernardmyo, in Mogok. From the collection of Bill Larson. (Photo: Jeff Scovil)