Pakistan: A Year in Review
Pakistan: 2006 – A Year in Review
A year ago, a friend of Pala International told us that, on December 29, 2005, twenty-four miners were killed in the Kohistan region of Pakistan's North West Frontier Province. As we reported at the time, the mines in this region are usually abandoned during the winter months. We conjectured that, after the devastation of October 2005's earthquake, miners might have been desperate enough to brave elements and aftershocks (the probable cause of the avalanche).
This month, we review select developments in Pakistan over the past year. First, a follow-up on the earthquake, then a look at progress on last year's "new initiative" for gems and jewelry and a gemology school partnership, and finally a visit to the mines.
Kashmir Earthquake – One Year On
The epicenter was almost directly between Muzaffarabad and ruby mines of Nangimali near Kel, 50 miles to the northeast (see map), which Vincent Pardieu visited last summer (story below). (Source: BBC)
Despite a massive international aid effort, BBC reported in October 2006 that
about 400,000 people face a second winter without permanent shelter in the mountains and valleys of northern Pakistan, according to the International Federation of Red Cross and Red Crescent Societies.
The UN says there are about 35,000 people still living in 45 tent camps and agencies are expecting at least another 20,000 to come down from the hills in the next couple of months before winter, when temperatures can drop to -15C or -20C in the highest villages.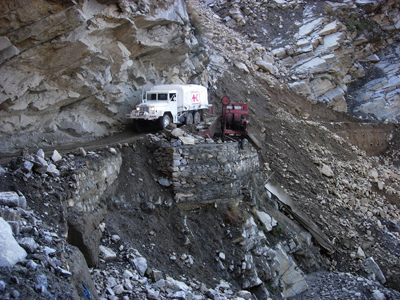 Above, a Red Cross/Red Crescent aid truck moves along a mountain road. Below, Pakistan lorries carrying aid from the Turkish Red Crescent. (Photos: International Federation of Red Cross and Red Crescent Societies, February 2006)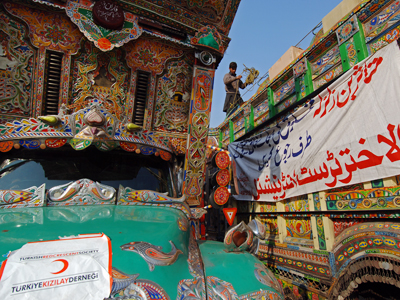 The Pakistan government, and perhaps even the UN, have put a relatively rosy glow on the rebuilding effort, possibly because numbers of refugees in official camps are relatively low. Others are more critical; an October 2006 story by Sri Lankan journalist Vilani Peiris quotes an Oxfam report of October 4:
[T]he progress of recovery has been patchy, and the pace of construction of housing and infrastructure has been slow. At least 1.8 million people have not begun rebuilding their homes; most of them are in makeshift shelters that offer limited protection against the coming cold.
Peiris also offers a statistic from Saima Ghazal, a surveyor with the International Organization for Migration: "90 percent of people in the Neelum Valley were still living in tents."
Progress on the Gem and Jewelry "New Initiative"
A 0.76-ct. available from The Collector Fine Jewelry. Government initiatives strive for more such jewelry to be fashioned in-country. (Photo: Wimon Manorotkul)
is the centerpiece for this open work ring,
Last March, our correspondent in Pakistan alerted us to a new government initiative to boost Pakistan's gem and jewelry exports. As late as October, however, according to the Daily Times, the government was still "working to finalize a... strategy under which it is targeting to double the exports of gems and jewellery in one year and to increase the volume of export to $500 million in five years from the existing $25 million." Prime Minister Shaukat Aziz and Federal Minister for Industries and Production Jehangir Khan Teareen announced the following milestones and trajectories:
Establishment of the Pakistan Gems and Jewellery Development Centre. (According to Rapaport, this was developed "after a two-year working group delegation studied best practices used in other major trading centers. The group's project leader, Ambarine Bukharey, and a delegation visited the United States in 2005 in time for the JCK Las Vegas Show and to meet with New York industry leaders in July that year." See also this profile of Bukharey for more detail on the working group)
Approval of a geological survey "to quantify the existing deposits and identify potential mining locations," to be conducted by the ministry of industries and production
Establishment of "gem testing and certification labs at gem trade hubs of Giligit, Quetta, Peshawar and Karachi"
Creation of "training facility and manufacturing centres to upgrade technology and processes... in Karachi, Lahore, Peshawar, Quetta and Northern Areas"
Efforts toward "establish[ing] Pakistani products as a brand in world market"
Gem and Jewelry Exports in a Free Fall
chart illustrates how desperately the gem trade is in need of a boost.
This
As of 2002-03, Pakistan's gem exports were valued at $1.9 million, with jewelry at $21.2 million (Daily Times). The latest Export Promotion Bureau presentation, however, shows that gems and jewelry exports have actually been dropping since 2001, from $28.5 million (2001–02) to $17.4 million in FY2005-06.
Pakistan obviously would like to cash in on the projected increase in demand for jewelry projected by its neighbors, India and China (see "India and China Jewelry Demand to Surge" in this issue). Its trade with China has remained flat over the last two years, but trade with India has increased from 1.53 to 5.85 percent of total exports, according to a Federal Bureau of Statistics report (this is a small slow-loading PDF).
Pakistan Gemological Institute Partners with AIGS
German Ambassador Dr. Christoph Brummer (in suit) receives lapidary demonstration at GGIP, July 2002.
Last June, the Gems & Gemological Institute of Pakistan (GGIP) announced a partnership with the Asian Institute of Gemological Sciences (AIGS) "that will enable the GGIP to become a world-class gemological institute," according to a press release from the United States Agency for International Development (USAID). "The USAID is funding the AIGS to assist with the new partnership under the Pakistan Initiative for Strategic Development and Competitiveness (PISDAC)." PISDAC, part of a five-year, $1.5-billion USAID assistance package, is managed by J.E. Austin Associates.
Under the agreement,
GGIP will be able to offer all courses currently available at AIGS/Bangkok with certificates and diplomas provided through the newly formed AIGS/Pakistan. These certificates and diplomas will be internationally recognized and will be based on completion of coursework meeting AIGS standards.
The relationship between GGIP and AIGS began due to the successful participation of the sector strategy working group under the Gems and Jewelry Pakistan brand in the Bangkok Gems and Jewelry fair in September 2005 where Pakistani companies received more than $4 million in orders.
A November 2005 Daily Times article about PISDAC stated that
[t]he project has also led to significant policy reforms within the industry because of an effective public-private partnership. Some of the reforms have made the gems and jewellery sector an industry rather than a retail-enterprise and resulted in elimination of sales tax and custom duty on import of machinery and equipment used for gem mining and extraction and processing of gems and jewellery.
Presumably that equipment comes from the United States. According to Vincent Pardieu of the AIGS lab, as of August 2006,
sadly it was still not clear if foreigners would be allowed to study in the future at the GGIP. Nevertheless studying both gemology and gem cutting in a traditional trading center like Peshawar is in my opinion one of the best choice for a young person willing to discover the fascinating universe of the gem trade.
Ruby Mining in Nangimali
Even in warmer months, landslides can be a problem, as Asian Institute of Gemological Sciences lab director Vincent Pardieu describes during his Summer 2006 field trip. In August, he visited the Nangimali ruby mining area in Azad Kashmir, near Kel (see map) in the Neelum River valley, and only was able to take cars from landslide to landslide—five in all. He credits the 2005 earthquake for the instability of the terrain.
Ruby in from the marble cliff known as Chitakata, where mining began mid-Summer 2006. (Photo: FieldGemology.org)
A government website (May 2005) claims that the Nangimali area has potential deposits of 24,900 million grams. The deposit, at 4,400 meters (14,400 ft.), is claimed to be the highest ruby deposit in the world. The website states that the material compares favorably with Burmese ruby.
According to an international specialist, Mr. C.R. Beesley, President of American Gemological Labs & GEMCORE, who conducted a detailed study of these gems for the United Nation Mineral Development Branch, like the sapphires of Kashmir, reveals that the majority of these new rubies have distinctive characteristics which uniquely identify them as "Kashmir."
One mine Pardieu visited there, below the main mines (in Chitakata, near Utili Domel, alt. 2,941 m.), was said to have yielded "19 kilos of ruby... during the last 25 working days." Ironically, Pardieu says that test tunnels "for more than 3 years produced only very few low quality stones." But Pardieu saw "production of attractive pinkish red stones lacking... transparency to be top quality but could be possibly a suitable material for heat treatment."
Pardieu also visited mines at higher elevations. The topmost mine (Nangimali Top, alt. 4,400 m.) was not currently in production.
Few years ago up to 50 miners were nevertheless working at Nangimali Top but the best stones were told us to have been produced at "Lower Khora." This mine has the same name as the alluvial mine located several hundreds meters under.
A visit to Lower Khora (an open pit mine in 1994) revealed a "ruby bearing layer was extending at least 150 meters inside the cliff...." Pardieu was told by the mine director produced "3 to 5 clean top quality crystals over one carat per week." The working season is traditionally three-and-a-half months per year.
Pardieu saw very little material from this area in the Namak Mandi gemstone market of Peshawar.
Emerald Mining in Mingora
Earlier last summer, Pardieu visited an emerald mine near Mingora, in the old princedom of Swat, in central North West Frontier Province. Mining there, while temporarily suspended, was conducted by open pit and tunnel. In the Mingora and Peshawar markets visited by Pardieu, it was said that the largest cut emerald of fine quality from the region was 5 ct., whereas most stones were under 1 ct. Emeralds have been linked to this area dating back as far as the Gallo-Roman era, according to Scientific American.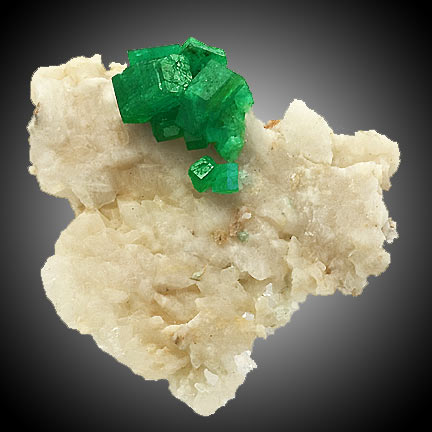 Mineral News for developments on Pala's mineral collections. (Photo: Wimon Manorotkul)
This excellent cluster of emeralds (17 x 14 mm) on matrix exhibits euhedral crystals, lustrous faces, and a pure bright-green hue. This specimen is part of a larger collection that includes all types of beryls from all major deposits around the world. The beryl collection, along with other complete species collections, is on display at Pala International headquarters. See a future issue of our
[back to top]