A Letter from Pakistan
True adventure from Pala International's daring suppliers
One good friend of Pala sent these recent photos to remind us all why gems are exciting and valuable. They are always found in difficult places, it seems. The lore and adventure to get them is an age old treasure hunter's dream.

Our supplier's jeep in the Shigar Valley mountains where the pegamatites form, producing fine aquamarine for cutting and specimens.
From our intrepid supplier: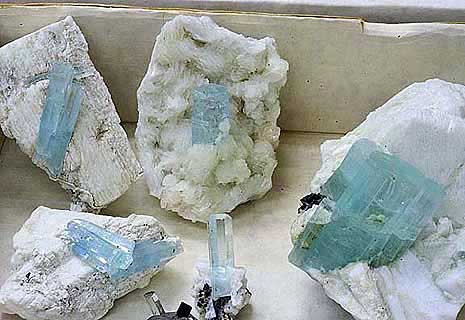 Shigar River Valley aquamarines from a recent supplier.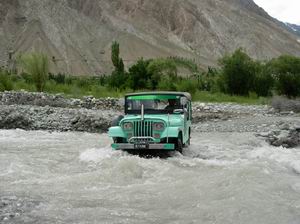 Traversing the river early in the day before it reaches dangerous flood stage, washing away many vehicles that try to cross. One friend of Pala had a close call when the vehicle he was traveling in made a crossing and was indeed flooded, just this past month in these same rains.
Road completely washed out from the recent rains. Our supplier: "An example of the roads around Shigar. There is no other road that would take us to our destination. These types of roads are not rare in the Shigar Valley."
A view from the Shigar Valley.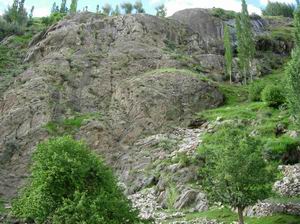 The terrain around Dassu, Gilgit Division, Northern Areas.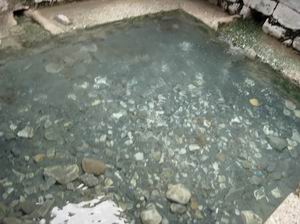 Rest and recuperation: A wonderful hot spring in the village of Chutrung that many gem dealers have used to soak away the day's driving bumps and grinds.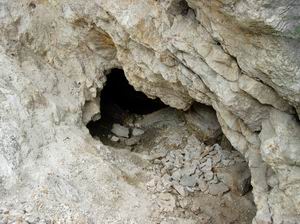 This mine, near the Nit Valley (near Shigar), continues to be worked, usually in winter.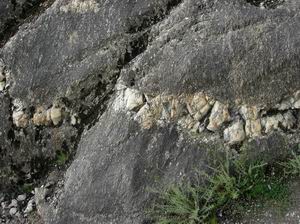 Coming from Dassu Village near the Nit Valley, our supplier was told by miners that this mountain is known to hold mineral specimens and so is the next to be explored.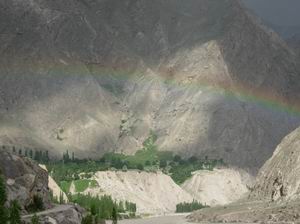 A rainbow over the "Aqua Valley"!
See also: